Handhållen trådlös terminal för RTR-50x-loggers
Denhandhållna läsaren laddar ned mätdata på upp till 150 meter från trådlösa 50x-loggers. Du kan även se grafiskt på displayen
Artikelnummer:
56-RTR-500DC
Lojalitetspoäng:
Tillgänglighet:
I lager
Pris: 3.931 kr
Pris: 4.053 kr

The RTR-500DC is a user-friendly wireless communication Data Collector designed for hand-held portability.
By carrying out wireless communication with Data Loggers, it is possible to start and stop recording and collect data from loggers placed in remote locations without having to manually gather them. The collected data can then be easily displayed in graph form in the LCD display of the RTR-500DC, enabling the immediate on-the-spot checking of data.

Application Examples
For downloading recorded data and monitoring current readings for moving or rotating Remote
Unit(s) on production lines.
For downloading recorded data and monitoring current readings for Remote Unit(s) in cargo compartment(s) using a Base Unit in the truck cabin.
Important Notice
T&D offers two types of wireless product models depending on the area of use; these are FCC and CE approved models. Please purchase the model appropriate for your region.
Also, wireless products cannot be used in countries other than where those products have been approved for use, according to that country's wireless regulations. T&D Corporation shall in no manner whatsoever take responsibility for the usage of these products, nor be liable in any manner for legal consequences stemming from the usage of these wireless products in unapproved areas.
For more information on the approved areas, please contact .
PC-mjukvara ingår för att ladda in mätdata och bearbeta i PC. 
Perfekt för att enkelt ha koll på temperatur, fukt, eller andra parametrar i kyl- och frysrum, lager, i växthus eller industriprocesser, etc. Systemet fungerar över avstånd på upp till 150 meter. Repeaters kan kopplas in om överföringsavståndet är längre än 150 m.
OBS, denna kommunicerar ej via 3G. 
Standard Kit
Unit

Antenna

USB cable

CD-ROM (Software)

AAA Alkaline Batteries

Introductory Manual (Warranty)
Setup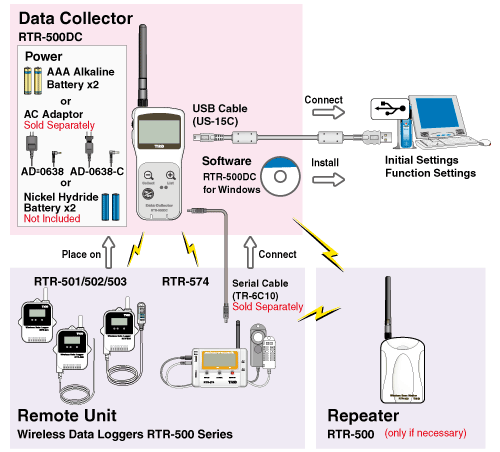 Communication Cable
TR-6C10 : Serial Communication Cable
Cable Length: 1.0m?40 in?
For communication between RTR-500DC and RTR-574
Examples of Usage:
For registering an RTR-574 as a "Visitor" to the RTR-500DC
For collecting data from the RTR-574 to the RTR-500DC via cable communication


AC Adaptor
AD-0638
Input : AC100-240V
Output : DC6V 500mA
Frequency : 50/60Hz
Cable length : 1.80m?74in?
Plug Type : A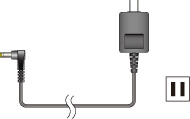 AD-0638-C
Cable length:1.80m?74in?
Input:AC100-240V
Output:DC6V 500mA
Frequency:50/60Hz
Plug Figure: C (with Plug Adaptor)
Wireless Communication Data Collector
The RTR-500DC can collect recorded data from Remote Units via wireless communication. The wireless communication range, if unobstructed and direct, is about 150 meters (500 ft). By setting up RTR-500 unit(s) as Repeater(s), it is possible to extend the wireless communication range.

On-site Graph Display
The data collected to the RTR-500DC can be immediately viewed in graph form on the spot without the need for a computer.
A graph is displayed for each channel of data. It is possible to view, for example, four channels of data measured and recorded by the RTR-574 by pressing the Operation Dial to switch the channel for viewing.
A simple yet functional graph of the RTR-500DC enables you to check the judgement result weather the set Upper/Lower Limit has been exceeded or not, check the highest and lowest readings, as well as zoom in and out.


Monitoring for Warning and Current Readings
Using the monitoring function, the RTR-500DC carries out wireless communication at a set interval with the registered Data Loggers (Remote Units) to monitor Current Readings and Remote Unit Status. The RTR-500DC also monitors for warnings in Data Loggers for which the Upper / Lower Limit settings have been made via the supplied software.

Managing Remote Units in Groups with One RTR-500DC Unit
An RTR-500DC can manage a large number of Remote Units. When registering multiple Remote Units, they can be divided into Groups by location or measurement item, each of which can then be assigned a communication frequency channel. The maximum number of Groups which can be registered in one RTR-500DC Unit is 7 (seven). Within each group the maximum number of Remote Units which can be registered is 32 (If using RTR-505 or RTR-574 or RTR-576 the max is 16).
Operating Same Remote Units via Multiple RTR-500DC Units
Multiple RTR-500DC Units can be used to communicate with one Remote Unit. It is possible, for example, to use one RTR-500DC Unit to monitor the Current Readings and another to collect data, or to have a number of workers carry one each.
It is easy to prepare the number of RTR-500DC necessary for the job. After having registered a Remote Unit its registration info can then be sent to multiple RTR-500DC (Base Units), either by using the software "RTR-500DC for Windows" and copying the Base Unit registration info into a multiple number of Base Units, or by using the "Visitor Entry" function by having the Base Unit read the Remote Unit info directly without using the software.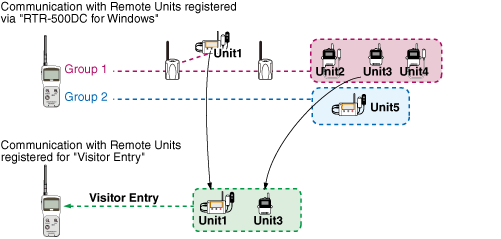 The "Visitor Entry" function enables any RTR-500DC unit to accept "visitors" or Remote Units which have been previously registered to another RTR-500DC; allowing any RTR-500DC unit to directly communicate with the accepted Remote Unit without the need for registration via a PC. Note that this function can only be used with Remote Units that have already been registered.

Application Example A:
For monitoring warnings and downloading recorded data from a Remote Unit registered as a "Visitor" in the cargo compartment of a truck.

Application Example B:
For downloading recorded data from the Remote Unit(s) registered as "Visitor" to the multiple Base Units.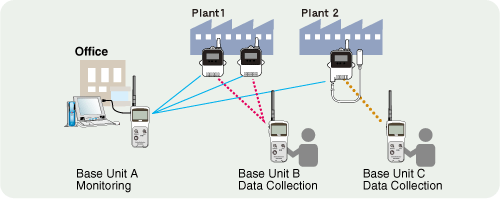 Ready for Use Without Troublesome Preparation
The RTR-500DC does not need troublesome preparation such as creating a network environment or carrying out wiring. All you need is a PC and accessories to use an RTR-500DC. By using the supplied software, you can carry out registrations and settings for Data Loggers to use with the RTR-500DC Unit, as well as the Unit operations such as downloading of the collected data to a PC, saving, and graph display.
Easy One-Hand Operation
The handy Operation Dial makes the operation of the RTR-500DC simple; moving the dial up and down displays the various menu selections which can be easily selected by pressing in on the dial. Easy-to-read LCD and simple menu structure enables a quick intuitive operation on site.

Various Power Supplies and Energy Saving Function
Power is provided by two AAA alkaline batteries. It is also possible to supply power to the RTR-500DC Unit from AAA Ni-MH batteries, USB bus power, or AC adaptor (optional).
The energy saving function will automatically turn off the Unit to save battery power if the Unit is not used for about three minutes.
LCD Backlight Display for Reading in the Dark
The RTR-500DC has a LCD backlight display to help you read data even in the dark. If the Unit is not used for more than five seconds, the LCD backlight will automatically turn OFF to save battery power. Once operation is re-started, it will automatically turn back ON. When the Unit is connected to an AC adaptor, the backlight remains ON.
Easy Firmware Update
The latest information and programs for the Unit, such as firmware updates, are available from the Support Page of our T&D Website. You can update the RTR-500DC firmware on your own to support the changes of the compatible devices as new models are released, for example.
JUST SÅLDA PRODUKTER
Om Oss
Egenkontroll.nu hjälper, alltsedan 2003, dig som är kock, livsmedelstekniker, restauratör, miljöinspektör, m.fl. med godkända mätinstrument och hygientester i ert arbete. Vårt utbud på Egenkontroll.nu har hela tiden styrts av dig som kund och av dina förfrågningar och önskemål till oss. Som resultat av detta kan vi nu dessutom leverera även tryckplattor för bakteriekontroller och renhetstestare för hygientester, där du kan spara stora belopp på att kunna utföra testerna på egenhand, utan inblandning av externa laboratorier. HJÄRTLIGT VÄLKOMMEN!!